RANDOM THURSDAY! YAY! :) I almost didn't get it in time because it's 10 PM, but I did! Anyhooters, here we go!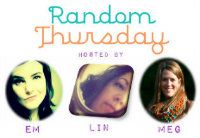 1. Chase.
He's in infantryman so he knows how to do like everything, he can build fire, sew anything, knows how to find food/water/shelter etc etc etc. He's awesome and he's the first thing I want with me on this island.
2. My friggin MacBook.
I mean there's going to be electricity and wifi on this island right? I sure hope so!
3. Unlimited supply of drinking water and kool-aid water enhancer.
I don't like water but if it's made into kool-aid flavored water, I'd be just fine. :)
4. A machete.
You can use it to fend off animals, kill animals to eat, cut down trees, and there's numerous other reasons to have one.
5. My camera with unlimited battery.
I mean I'm assuming we'd get rescued off this island at some point so I'd like to document my time on said island. :)